This may be the best-tasting recipe we've made to date! And best of all? It's healthy! The "crust" is made from almonds, dates, and orange juice and the filling is made from 1.5 baskets of Terry Berries blueberries soaked overnight in a mixture of all-natural vanilla extract, brown sugar, and fresh-squeezed lemon and orange juice. Finally, it's garnished with a little bit of orange zest and voilà – you now have a healthy and sweet dessert that's also friendly for those with gluten allergies! Not to mention that this recipe is also great for our vegetarian and vegan friends!
Click the link below for a full list of ingredients and instructions.
Prep Time: 20min
"Cook" Time (or "wait time" since these aren't cooked): 2 hours
Ingredients:
Blueberry Filling:
2 cups fresh Terry Berries blueberries (about a basket and a half)
2 teaspoons fresh orange juice
1 teaspoons fresh lemon juice
½ teaspoon grated orange zest, plus extra for garnish
¼ teaspoon vanilla extract
4 teaspoons brown sugar
Canola-oil cooking spray
Crust:
⅔ cup raw almonds
¾ cup pitted dates
1 teaspoon orange juice
1 teaspoon water
Instructions
Blueberry Filling:
Combine the first 6 ingredients in a bowl, cover and refrigerate.
Crust:
Pulse
almonds in a food processor until they resemble breadcrumbs. Empty the
almonds into a mixing bowl. Pulse the dates in the food processor until
well chopped (they will be a little clumpy).
Add
almonds back into the food processor with the dates along with 1
teaspoon water and 1 teaspoon orange juice. Pulse on high several times
to form a paste.
Divide
mixture evenly into 4 golf ball-sized rounds. Press the rounds with the
palm up your hand to form a 4-inch crust and gently turn up the edges.
Refrigerate for 2 hours.
Assembly:
Use
a spatula to move crusts to serving plates; fill each with ½ cup
berries and drizzle each with some leftover juices from the bowl. Top
with orange zest for garnish.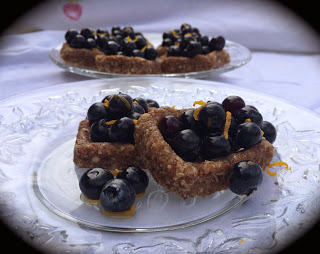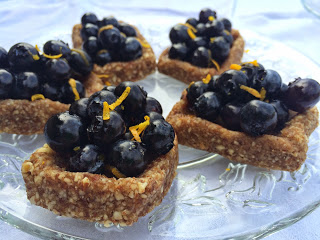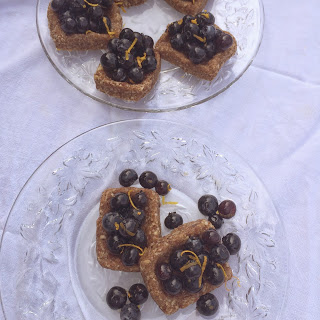 Original recipe can be found here